Donna Farhi
Donna Farhi is a Yoga teacher who has been practicing for 39 years and teaching since 1982. She is one of the most sought after guest teachers in the world, leading intensives and teacher training programs internationally. Her approach to Yoga is informed by the refinement of natural and universal movement principles that underlie safe and sustainable Yoga practice. This concentration on fundamental principles allows student of all levels of experience and from all traditions to build their own authentic Yoga practice.
Considered the "teacher of teachers" students return to Donna's intensives year after year to be a part of the inspiring evolution of Donna's own practice and teaching.
Donna is the author of four contemporary classics; The Breathing Book, Yoga Mind, Body & Spirit: A Return to Wholeness and Bringing Yoga to Life: The Everyday Practice of Enlightened Living. Her fourth book Teaching Yoga: Exploring the Teacher-Student Relationship is a curricular text for teaching trainings worldwide. She has been profiled in four separate publications on exceptional contemporary teachers of our time, including Yogini: The Power of Women in Yoga.
After nearly four decades of practice Donna believes that Yoga is about learning to befriend our self and to be in friendship with others as a means to building greater fellowship with all of humanity. American born, Donna now resides in Christchurch, New Zealand on a 30- acre farm with her horses, Santosha, Liberty and Ambrosia.
---
Joanna Abbatt
Joanna Abbatt received a Masters in Biomechanics from McGill University in 1999, a B.F.A. in Dance from York University in 1981, is a licensed massage therapist (masso-kinesitherapie, member of FQM), pilates certified, NYC in 1989, gyrotonic certified in 1999, trained in LA, and was a professional dancer in Montreal for 14 years. She has taught functional anatomy at Concordia University, Ashtanga Yoga of Montreal, Ecole Superieure de Ballet du Quebec, ESBQ, and private workshops. Her practice combines the above techniques with manual therapy which distinguishes her approach from others. She was one of the first to bring pilates to Montreal in 1990, before any pilates studios existed. She has had her own re-education clinic in Montreal since 1990, working with dancers, circus performers, yogis, and many regular folks. Her focus through the years has always been to keep people moving and to help troubleshoot mechanical problems with her clients.
---
Dr. Baxter Bell
Baxter Bell, MD, has been actively deepening his understanding of yoga and relaxation since making the stress-reducing move from a career as a busy family doctor to that of a yoga teacher and medical acupuncturist.  He is a graduate of the Piedmont Yoga Studio's 18-month Advanced Studies Program, and has since become Director of PYS's Deep Yoga Program, teaching the Experiential Anatomy, Yoga Technique, and Yoga Methodology portions of the training.  He is also on faculty for several Teacher Training programs around the country, including the Therapeutic Yoga Teacher Training program at the Niroga Institute in Berkeley, CA.
Baxter has studied extensively with Rodney Yee, Patricia Walden, and Erich Schiffmann, and has recently been influenced strongly by the work of TKV Desikachar and Donald Moyer. Baxter is featured in Yoga Journal's DVD, "Yoga for Stress," and has written articles for Yoga Journal, Yoga for Everybody, and International Journal of Yoga Therapy. He also blogs for Yoga for Healthy Aging, and Doctor's Orders, for Yoga Journal.  Baxter is involved in the integration of therapeutic applications of yoga with Western medicine, lecturing to health care professionals around the country, as well as adding Hatha yoga asanas and pranayama to his care of patients in his medical acupuncture practice.
Baxter teaches public, corporate and specialty Back Care yoga classes in Oakland, Berkeley, Petaluma and Novato, California, as well as workshops and retreats around the country and internationally.  He teaches a healing, nurturing style of Hatha yoga, balancing our desire for action with our need to quiet the mind, emphasizing the qualities of curiosity and meditation in the practice. His students say they appreciate his clarity of instruction and playful sense of humor.
---
Ann Dyer
Ann Dyer has explored sound and music for over thirty years as a concert and recording artist, yoga practitioner, student of Hindustani vocalization and teacher of sound within the yoga tradition.
Dyer has performed extensively throughout the U.S., India, Brazil, Mexico, and Canada and has released three critically-acclaimed CDs, Ann Dyer & No Good Time Fairies, When I Close My Eyes, and Revolver: A New Spin, which received recognition as one of the Top Ten Recordings of the year by the Village Voice. Her music has been acclaimed for its originality and a subtle use of sound that "grabs you in the gut while it messes with your mind" (The Metro).  She has composed and performed soundtracks for two Rodney Yee DVDs released on the Gaiam label, AM Yoga and Five-Day Ashtanga.
Ann's teaching of the yoga of sound encourages philosophical understanding, skillful practice and experiential knowledge.  Her teachings reveal the effects of sound on the material body, physiology, emotion, intellect and the realization of spirit. Topics covered include sanskrit, Vedic mantra, tanrtric mantra, bhakti yoga, naada yoga, the mystical foundations of classical Indian music and the incorporation of sound into one's personal practice and yoga classes.
Ann is director of Mountain Yoga in Oakland, CA and is on the faculty of Piedmont Yoga Studio's Deep Yoga Program. Her current musical project VAK: Song of Becoming is a full-length, multi-disciplinary concert built on the sound principles and practices of yoga, commissioned by the Yerba Buena Center for the Arts in San Francisco for performance in September of 2013.
---
Elizabeth Emberly
Elizabeth Emberly is the co-founder of Montreal's Naada Yoga. A certified Ashtanga Yoga Teacher, Elizabeth brings to yoga a deep sense of creative expression. She has studied extensively with yoga teachers Dharma Mittra, Darby, Allison Ulan and Richard Freeman. She is a graduate of Concordia University' s Dance and Choreography program and blends together twenty five years of dance and somatics with Yoga.
---
Kreg Weiss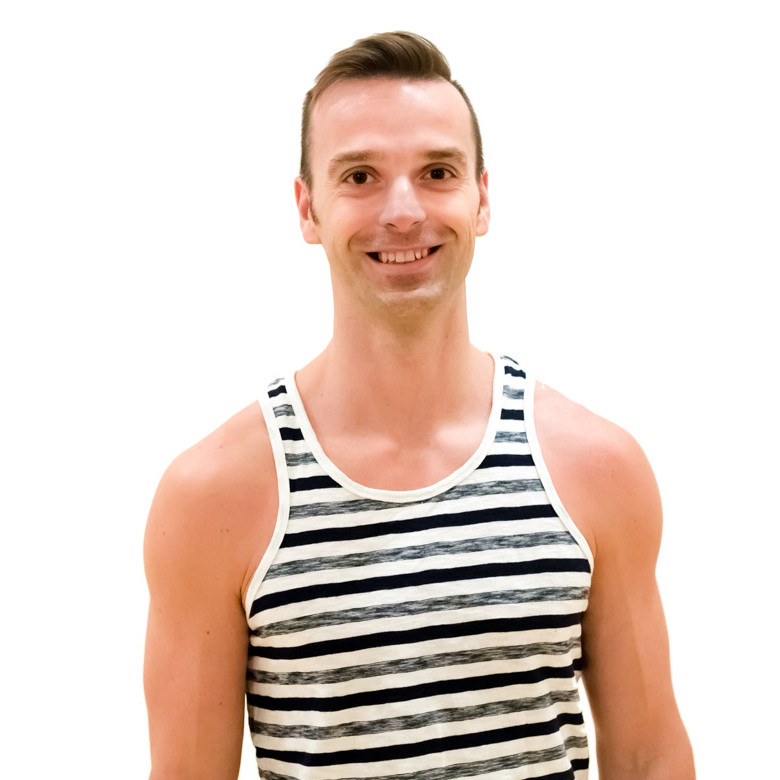 Kreg is a certified Hatha Yoga Teacher, international presenter and kinesiologist (exercise science). All of his classes integrate a purposeful, meditative quality to allow for an experience of connection and reflection while the body explores expansion and renewal.
Kreg acquired his Yoga certification in 2002 following several successful years of venturing in the wellness industry as a personal trainer, group fitness trainer, and national competitive athlete. He has been able to complement his teaching practice with additional studies in Kinesiology and Health Sciences at the University of British Columbia.
With his extensive background in anatomy and physiology, Kreg feels privileged to be able to empower students with practices that are educational, engaging and accessible. Through integrity-driven classes, Kreg aims to provide students with the tools to pursue a unique, confident practice where asanas, pranayama, and meditation interact collectively to rejuvenate and heal the body and mind.
---
Mary Paffard
Mary Paffard was dragged kicking and chain-smoking to her first yoga class in the early 70s in London. It was by no means love at first sight! but it was the first time she could remember feeling the possibility that head, heart and body may all be part of the same continuum. Since then, she shares her passion for, and explorations of, yoga and Vipassna meditation, in classes, workshops and teachers programs nationally and internationally.
Mary has lived off-the-grid on a collective apple farm for over 30 years in Northern California. Director of Teacher Training at Yoga Mendocino, Ukiah California from 2000-2010, Mary co-founded this non profit center and has created teachers programs for training and "un-training"! since the mid 90s. She continues to be part of the Teachers programs faculty at Piedmont Yoga, Oakland and has brought trainings to Mexico, Cuba and Europe through her Yoga Alliance certified school, Yoga for All, at the 200 and 500 hour level.
---
Sonia Osorio
Sonia has a Master's level training in homeopathic medicine (DHom), and is a certified massage therapist and yoga instructor with almost 20 years experience in somatic bodywork. Her training supports an integrative mind-body-lifestyle approach to working with the various manifestations of stress, disease and trauma. Sonia has completed several advanced teacher-trainings in Ashtanga and Iyengar Yoga, studying with Sri K. Pattabhi Jois, Richard Freeman, Ramanand Patel and Mukesh Desai. She has also studied mindfulness practices with Zen Buddhist master Thich Naht Hanh, and continues to deepen her meditation studies in Tibetan Buddhism under the guidance of Ken McLeod. For several years, Sonia worked as a writer and editor in medical publishing, and continues to contribute articles to various health care publications. She has also helped to develop and facilitate teaching curriculums for various mind-body training programs, and mentors experienced students in issues related to practice and teaching.
---
Matthew Remski
YA certification with Darren John Main in 2002. Yoga Therapy certification in 2004 from Rocky Mountain Institute of Yoga and Ayurveda under the directorship of Sarasvati Buhrman. In addition to studying Ayurveda and Yogic philosophy with Professor Buhrman, he has studied structural alignment and Marma Point therapy with Shar Lee, Yoga Therapy for Asthma and Diabetes with Dr. Sarita Shresta of Nepal, Yoga Therapy for Cancer Patients with Jnani Chapman of Commonweal, Yoga for Problems of Aging with Nischala Devi of the Dr. Ornish programme, and Applied Yogic Psychology with Maitreyi'i Nolan, Ph.D. Graduated from American Institute of Vedic Studies (David Frawley, Director) in both Ayurvedic Health Education and Advanced Yoga Therapy and Ayurvedic Practitioner categories (800 hours combined). Graduated Advanced Yoga Philosophy Programme through RYA under Scott Petrie, 2008 — 2010. Studied Hasta Samudrika and Vastu Shastra with Hart deFouw, 2008 — 2010. Studied Jyotish in a gurukula setting at Vidya Institute in Toronto from 2007 to 2011.
He serves as adjunct faculty member for many of the Yoga Teacher Training Programmes in Toronto, teaching Ayurvedic theory and practice. He was the co-director of Yoga Community Canada and Co-founder of Yoga Festival Toronto. He is co-author, along with Scott Petrie, of the Yoga 2.0; Shamanic Echoes. His revisionist translation of the Yoga Sutras of Patanjali, Threads of Yoga: a Remix of Patanjali's Sutras with commentary and reverie, has been gathering international acclaim. Mark Singleton writes: "I don't know of any reading of the yoga sutras as wildly creative, as impassioned and as earnest as this. it engages Patanjali and the reader in an urgent, electrified conversation that weaves philosophy, symbolist poetry, psychoanalysis and cultural history. There's a kind of delight and freshness in this book that is very rare in writing on yoga, and especially rare in writing on the yoga sutras. This is a Patanjali for postmoderns, less a translation than a startlingly relevant report on our current condition, through the prism of this ancient text." Matthew is currently working on a book on Ayurvedic theory and practice for the 21st century that has the working title of "Ayurveda: East and West". You can read other writings of his on his blog.
---
Richard Rosen
Director of Piedmont Yoga Studio (PYS) in Oakland, CA. Richard began his practice in Hatha Yoga in 1980, and went on to train at the Iyengar Yoga Institute in San Francisco. In 1987, along with his good friend Rodney Yee, he opened PYS, where he has taught continuously ever since. On January 3, 2009 Richard taught his 5,000th public class at PYS.
Author of three books: The Yoga of Breath, Yoga for 50+, and Pranayama Beyond the Fundamentals. Shambhala publishers has also just released The Practice Of Pranayama, a set of seven CD's with over 8 hours of pranayama instruction. Shambhala will also publish Original Yoga: Rediscovering Traditional Practices of Hatha Yoga in 2011.
A contributing editor for Yoga Journal, Richard has written feature articles, book reviews, and a variety of columns for the Yoga Journal. Since 1990, he has been their audio/video review columnist; reviewing over 300 yoga videos to date.
Richard Rosen sits on the board of directors of the California Yoga Teachers Association, and in 2008 helped create its grant-making wing, the Yoga Dana Foundation, which supports California yoga teachers working with under-served populations, such as at-risk, incarcerated youth, and disabled students.
---
Mark Singleton

Mark Singleton works on the history of ideas in transnational yoga and currently teaches at St. John's College, Santa Fe, New Mexico. He was research assistant to Elizabeth De Michelis in 2003-4, and went on to complete a Ph.D on modern yoga at the Faculty of Divinity, University of Cambridge. His latest publication Yoga Body: The Origins of Modern Posture Practice (Oxford University Press, 2009) is based on his Ph.D thesis, and charts the development of modern modes of postural yoga practice from c.1875 to c.1940. His publications include thirteen entries on 'Modern Yoga' for Routledge's Encyclopedia of Hinduism (2009); a guest-edited yoga issue of the journal Asian Medicine: Tradition and Modernity (2007); and a co-edited book, Yoga in the Modern World: Contemporary Perspectives (Routledge 2008). He is currently preparing another co-edited collection entitled Gurus of Modern Yoga.
---