Elizabeth Emberly
Elizabeth is the co-founder of Montreal' s Naada Yoga. A certified Ashtanga Yoga Teacher, Elizabeth brings to yoga a deep sense of creative expression. She has studied extensively with yoga teachers Dharma Mittra, Richard Rosen, Rodney Yee, Mark Singleton, Francois Raoult and Richard Freeman. She is a graduate of Concordia University' s Dance and Choreography program and blends together twenty five years of dance and somatics with Yoga.
*Elizabeth's classes are taught bilingually
Upcoming Class Schedule Book a Private
---
Kathleen Stavert
Kathleen is a 500hr RYT with appleyoga (London, UK) and Association for Yoga and Meditation (Rishikesh, India). Yoga became a significant part of her life when she began training as an actor in 2003. It started out as a thorough preparation for a performance or audition, and helped her find and sustain presence while acting. Kathleen lived in London, UK for 6 years where she taught classes and led retreats in Morocco and the beautiful English countryside. Kathleen's yoga classes are really focused on feeling inner sensations and finding your own potential and strength. She often incorporates work on the energy body (chakras) as well as breathing and meditation. She thoroughly challenges her students in a subtle and effective way so they leave the mat feeling light, spacious and vibrant.
*Kathleen's classes are taught bilingually
---
Marielle Bertin
Marielle is a certified Hatha yoga teacher inspired by the Ashtanga style of the AYM studio in Montreal. A dynamique approach focussed on the balance between effort of movement and personal potential. This training introduced her to the discipline of daily practice and was the start of a relationship that has lasted for over 15 years. For her yoga is the optimal challenge of everyday living. Exploring the tensions between effort and ease, comfort and discomfort and the sense of self within turbulance. Simplicity and movement. With a background in Massage Therapy, Horticulture and Garden Design she is currently completing the Professional Yoga Therapist Program at Naadayoga.
*Marielle's classes are taught bilingually
---
Dawn Mauricio
Dawn, born and raised in Montreal, is a yoga and meditation teacher with a playful, dynamic, and centred approach. She is known for her boundless energy and smiling personality that are both contagious and motivating. Drawing from her deep experience in yoga and meditation, she delivers an effective balance of clear, precise instruction and mental reflection. Dawn firmly believes that how we offer ourselves in practice reflects how we offer ourselves in life, inspiring her to find new ways to extend her practice beyond the yoga mat and meditation cushion – and encouraging her students to do the same.
Dawn discovered yoga in 2000, meditation in 2005, and through years of practice, her journey has evolved into a broad vision to share, connect, and create community. In 2007 she started the Yoga Mala Foundation, a Montreal-based non-profit organization that supports the development of yoga programs in communities in need.
Dawn can be found teaching in a variety of settings around Montreal, halfway around the world leading yoga and meditation retreats, studying with senior teachers, sitting silent retreats, practicing daily, and laughing regularly. Off the mat and cushion, she is a passionate crusader for a mindful, healthy and holistic life.
*Dawn's classes are taught bilingually
---
Xavier Therrien
With a background in volley ball and acrobatics, Xavier didn't pay much attention to the suffering he was inflicting to his body. It's only after a second attempt that he found a regular yoga practice leading to an Ashtanga teacher training certification. From then on, he started to understand that yoga was truly about connection and that what lies behind the Asanas, is physical and mental awareness. In the never ending exploration of yoga, he believes that accepting the challenges of life requires a light heart and an open mind. Now finishing his degree in osteopathy, Xavier thrives on sharing his passion for movement through yoga.
*Xavier's classes are taught bilingually
---
Emily Gan
Emily went to her first yoga class while studying visual and media arts. In the following years, yoga became a discipline that assisted in her physical, spiritual and mental well-being. She completed a Bachelor of Arts in Communication Studies and Fine Arts (Photography) and began working in the field while also completing a certification to teach Moksha Yoga. Emily went on to complete the Naada Yoga Teacher Training (500hr NYTT) five years later. Art and yoga continue to serve analogous functions in her life; she draws from both practices for inspiration and support. She feels privileged to teach and learn from the extensive Naada community and hopes to share her love for yoga with clarity and sincerity.
*Emily's classes are taught bilingually
---
Kreg Weiss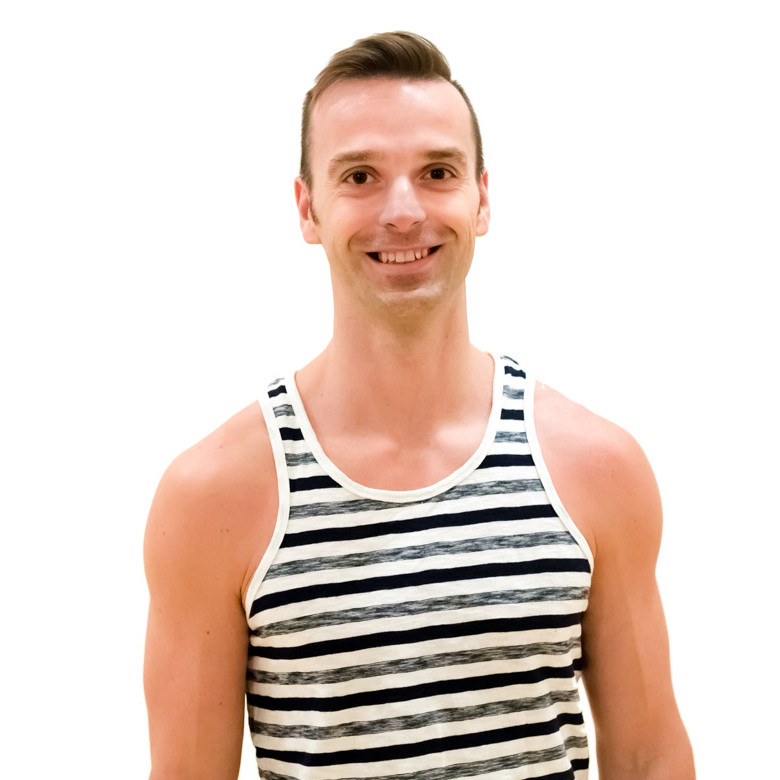 Kreg is a certified Hatha Yoga Teacher, international presenter and kinesiologist (exercise science). All of his classes integrate a purposeful, meditative quality to allow for an experience of connection and reflection while the body explores expansion and renewal.
Kreg acquired his Yoga certification in 2002 following several successful years of venturing in the wellness industry as a personal trainer, group fitness trainer, and national competitive athlete. He has been able to complement his teaching practice with additional studies in Kinesiology and Health Sciences at the University of British Columbia.
Striving to share his passion for Yoga, he was inspired in 2004 to co-create MyYogaOnline.com. My Yoga Online grew to become the leading global resource for online yoga videos and is now part of the GaiamTV program.
With his extensive background in anatomy and physiology, Kreg feels privileged to be able to empower students with practices that are educational, engaging and accessible. Through integrity-driven classes, Kreg aims to provide students with the tools to pursue a unique, confident practice where asanas, pranayama, and meditation interact collectively to rejuvenate and heal the body and mind.
*Kreg's classes are taught in English
---
Susan Bronson
Susan Bronson, RYT-500, completed her Yoga Teacher Training and her Yoga Therapy Training at Naada Yoga in 2014, after 35 years working as a heritage architect. It seemed like a natural shift from ensuring that buildings age gracefully and maintain their vitality to assisting people to do the same. Specialized in Yoga for Bone Health, Susan possesses certifications in Relax and Renew®, Yoga for Healthy Aging and Nutritherapy. Her passion is helping students develop a mature yoga practice that recognizes and respects their limits but that never ceases to grow, deepen and renew.
*Susan's classes are taught bilingually
---
Alexandrine Slater
Un seul cours suffit à Alexandrine pour comprendre que le yoga doit faire partie de son quotidien.Plus les heures s'accumulent sur le tapis, plus les valeurs fondamentales de la pratique prennent racine.
En 2015, elle complète la formation de 500 heures chez Naada Yoga qui lui permet de rencontrer ses talentueux professeurs et d'apprendre à partager cette grande passion.
Pour elle, l'enseignement est un courant nécessaire, une profonde envie de partager ses expérimentations combinant son émerveillement pour l'anatomie humaine et la complexité du mouvement.
*Alexandrine's classes are taught bilingually
---
Jenny Berthiaume
It was after her second child, and a postpartum depression diagnosis that Jenny turned her back on her thriving journalism career and started training to be a yoga teacher. It was yoga that got her out of her most difficult times. Witnessing firsthand yoga's ability to heal and transform.
Jenny is a certified yoga therapist, yoga teacher, doula and birth educator with 500hr+ Yoga Alliance training. Despite all this training, her biggest teachers are her two young children.
Jenny brings a therapeutic approach to the various styles of yoga she teaches– from Yin to dynamic flow. While she works with a variety of populations, her passion is helping new and expectant moms connect with their breath, body and baby.
Jenny offers private and semi private yoga therapy for fertility, pregnancy and postpartum issues including PPD and diastasis recti. She also teaches regular Yoga for Birth Couples' Workshops, prenatal classes with Rock the Cradle and teacher trainings for prenatal, postnatal and Children's yoga with Little Lotus Yoga.
*Jenny's classes are taught bilingually
---
Alba Gil
Alba was born and raised in Mexico City. She made Montreal her home more than six years ago. Alba has been working in film and television for more than twelve years and it was this industry that allowed her to discover yoga as a remedy to the fast-paced and stressful atmosphere that reign on sets.
Her biggest teacher has been Sebastian, her son. He is her yoga, her everyday practice. Since his birth, Alba's vision has evolved into a need to share and connect with other families. She strongly believes that it takes a village to raise a child and this idea of creating a yoga family community is what has inspired her to design a yoga family program.
Alba has worked with kids throughout her life in diverse informal and relaxed environments. She has a very playful approach that makes kids follow her almost immediately. She enjoys to have fun with the little ones and it's her absolute love to share yoga and mindfulness with them.
Alba is a graduate from Naada Yoga 500-hour Teacher Training and a Rainbow Kids Yoga Teacher. She teaches in English, French and Spanish.
*Alba's classes are taught bilingually
---
Thea Metcalfe
Thea is an experienced, approachable and dedicated yoga teacher, certified since 2007, and a yoga practitioner since 1999.
Students come to her classes for the levity and refinement she imbues in her Hatha classes. Thea is passionate about yoga sequencing taught with depth of technical knowledge and clear detail, helping students get out of their heads and into their bodies, and recognizing the simple and profound pleasure of breath and movement.
Originally from British Columbia, Thea has called Montréal home since 1999. Thea has 700+ hours of formal, accredited yoga teacher training across Canada. She has taught at Naada Yoga since 2011. For the last several years, Thea has been a mentor to over a dozen Naada Yoga Teacher trainees in the highly esteemed Naada Yoga teacher training program.
Thea is a new mother to her beloved son and is humbled and grateful for the practice of parenthood and yoga Asana, both potent reminders to inhabit the present moment.
*Thea's classes are taught bilingually
---
Michael Bridge-Dickson
 Michael Bridge-Dickson has been teaching yoga since 2004.
An articulate communicator with a knack for connecting various aspects of yoga practice, Michael uses his keen eye for detail, methodical view of progressive sequencing, and adaptive prop use to awaken body intelligence.
Michael is particularly interested in a sense-based practice, helping students navigate their inner world through multi-layered practice valuable to practitioners of all levels, from novice to seasoned veteran. The emphasis is always on learning and creating safe, sustained practice. Understanding the "why" and "how" of practice adds depth, promoting a healthy approach to life-long practice.
He is fascinated by the intricacies of the human state — innumerable layers of expression contained within a single, physical manifestation.
*Michael's classes are taught bilingually
---
Cindy Gurunlian
A graduate of the Toronto Dance Theatre and holding a BFA in Contemporary Dance from Concordia University, Cindy also recently completed the fifth year in the Bachelor of Science program at Le Collège d'Études Ostéopathiques de Montréal. She is passionate about movement and the body and believes that alignment begins on the physical plane, leading to the divine within. A creative and intelligent approach to Ashtanga Vinyasa or eight-limbed yoga dovetails nicely with this area of interest, as the form encourages greater strength, suppleness and unity of body and mind, spirit and heart. Cindy did her first yoga teacher training with Mark Darby and Allison Ulan in 2002, and in 2005, also completed Richard Freeman's teacher training in Boulder, Colorado and then did a pre-natal teacher training with Janice Clarfield in 2011. A certified Pilates teacher, recognized by the Pilates Method Alliance, the Stott studio and also having completed all training modules with Pilates expert Dianne Miller, Cindy combines yoga with related bodywork techniques and always encourages her students to move with freedom and ease. She has been fortunate enough to work with a wide array of people including street youth at Dans la Rue, athletes from the Montreal Alouettes football team, Olympic diver Alexandre Despatie as well as celebrities such as Roch Voisine and Sharon Stone. Cindy is also very grateful for the journey of how to live your yoga through the experience of motherhood.
*Cindy's classes are taught bilingually
---