Elizabeth Emberly
Elizabeth is the co-founder of Montreal's Naada Yoga. A certified Ashtanga Yoga Teacher, Elizabeth brings to yoga a deep sense of creative expression. She has studied extensively with yoga teachers Richard Rosen, Donna Farhi, Dharma Mittra, Judith Hanson Lasater, Mark Singleton, Dr. Baxter Bell, Rodney and Colleen Saidman Yee, Francois Raoult, Mary Paffard and Richard Freeman. She is a graduate of Concordia University' s Dance and Choreography program and blends together twenty five years of dance and somatics with Yoga. Her current passion lies in the therapeutic benefits of yoga and making yoga accessible to those who might otherwise not have such easy access.
*Elizabeth's classes are taught bilingually
---
Kathleen Stavert
Kathleen is a 500hr RYT with appleyoga (London, UK) and Association for Yoga and Meditation (Rishikesh, India). Yoga became a significant part of her life when she began training as an actor in 2003. It started out as a thorough preparation for a performance or audition, and helped her find and sustain presence while acting. Kathleen lived in London, UK for 6 years where she taught classes and led retreats in Morocco and the beautiful English countryside. Kathleen's yoga classes are really focused on feeling inner sensations and finding your own potential and strength. She often incorporates work on the energy body (chakras) as well as breathing and meditation. She thoroughly challenges her students in a subtle and effective way so they leave the mat feeling light, spacious and vibrant.
*Kathleen's classes are taught bilingually
---
Marielle Bertin
Marielle is a certified Hatha yoga teacher inspired by the Ashtanga style of the AYM studio in Montreal. A dynamique approach focussed on the balance between effort of movement and personal potential. This training introduced her to the discipline of daily practice and was the start of a relationship that has lasted for over 15 years. For her yoga is the optimal challenge of everyday living. Exploring the tensions between effort and ease, comfort and discomfort and the sense of self within turbulance. Simplicity and movement. With a background in Massage Therapy, Horticulture and Garden Design she is currently completing the Professional Yoga Therapist Program at Naadayoga.
*Marielle's classes are taught bilingually
---
Xavier Therrien
With a background in volley ball and acrobatics, Xavier didn't pay much attention to the suffering he was inflicting to his body. It's only after a second attempt that he found a regular yoga practice leading to an Ashtanga teacher training certification. From then on, he started to understand that yoga was truly about connection and that what lies behind the Asanas, is physical and mental awareness. In the never ending exploration of yoga, he believes that accepting the challenges of life requires a light heart and an open mind. Now finishing his degree in osteopathy, Xavier thrives on sharing his passion for movement through yoga.
*Xavier's classes are taught bilingually
---
Emily Gan
Emily went to her first yoga class while studying visual and media arts. In the following years, yoga became a discipline that assisted in her physical, spiritual and mental well-being. She completed a Bachelor of Arts in Communication Studies and Fine Arts (Photography) and began working in the field while also completing a certification to teach Moksha Yoga. Emily went on to complete the Naada Yoga Teacher Training (500hr NYTT) five years later. Art and yoga continue to serve analogous functions in her life; she draws from both practices for inspiration and support. She feels privileged to teach and learn from the extensive Naada community and hopes to share her love for yoga with clarity and sincerity.
*Emily's classes are taught bilingually
---
Kreg Weiss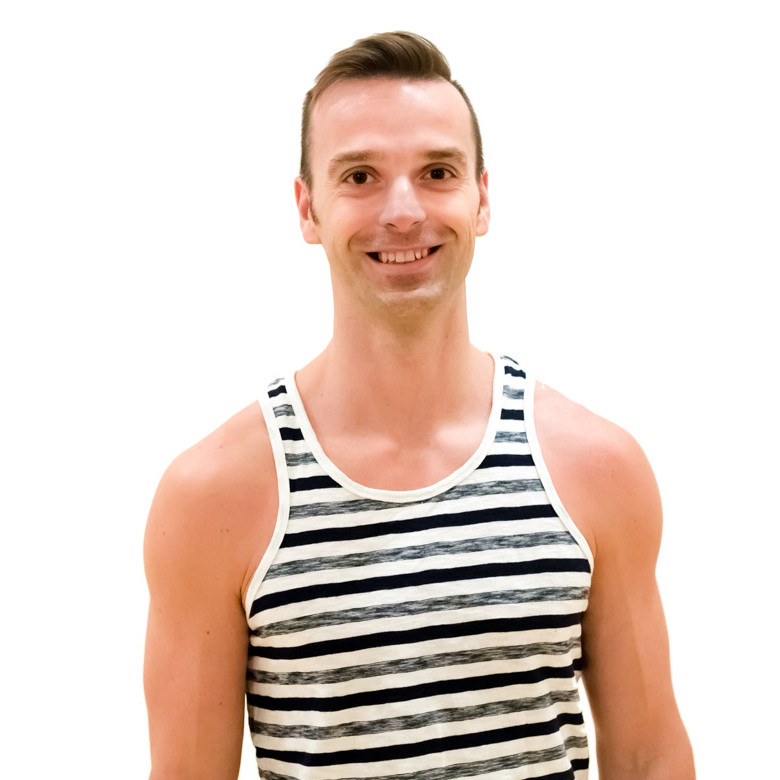 Kreg is a certified Hatha Yoga Teacher, international presenter and kinesiologist (exercise science). All of his classes integrate a purposeful, meditative quality to allow for an experience of connection and reflection while the body explores expansion and renewal.
Kreg acquired his Yoga certification in 2002 following several successful years of venturing in the wellness industry as a personal trainer, group fitness trainer, and national competitive athlete. He has been able to complement his teaching practice with additional studies in Kinesiology and Health Sciences at the University of British Columbia.
Striving to share his passion for Yoga, he was inspired in 2004 to co-create MyYogaOnline.com. My Yoga Online grew to become the leading global resource for online yoga videos and is now part of the GaiamTV program.
With his extensive background in anatomy and physiology, Kreg feels privileged to be able to empower students with practices that are educational, engaging and accessible. Through integrity-driven classes, Kreg aims to provide students with the tools to pursue a unique, confident practice where asanas, pranayama, and meditation interact collectively to rejuvenate and heal the body and mind.
*Kreg's classes are taught in English
---
Susan Bronson
Susan Bronson, RYT-500, completed her Yoga Teacher Training and her Yoga Therapy Training at Naada Yoga in 2014, after 35 years working as a heritage architect. It seemed like a natural shift from ensuring that buildings age gracefully and maintain their vitality to assisting people to do the same. Specialized in Yoga for Bone Health, Susan possesses certifications in Relax and Renew®, Yoga for Healthy Aging and Nutritherapy. Her passion is helping students develop a mature yoga practice that recognizes and respects their limits but that never ceases to grow, deepen and renew.
*Susan's classes are taught bilingually
---
Alexandrine Slater
It took just one yoga class for Alexandrine to understand that yoga would forever be a fundamental part of her life. The more hours she accumulates on the mat the more the fundamental values of the practice take root.  In 2015, she completed the 500-hour teacher training at Naada Yoga, which enabled her to learn from a sophisticated faculty who have helped her to mould her passion for yoga and share it with others.  For her teaching extends from a deep desire to explore the wonderment of human anatomy juxtaposed with the complexity of movement.      
*Alexandrine's classes are taught bilingually
---
Michael Bridge-Dickson
 Michael Bridge-Dickson has been teaching yoga since 2004.
An articulate communicator with a knack for connecting various aspects of yoga practice, Michael uses his keen eye for detail, methodical view of progressive sequencing, and adaptive prop use to awaken body intelligence.
Michael is particularly interested in a sense-based practice, helping students navigate their inner world through multi-layered practice valuable to practitioners of all levels, from novice to seasoned veteran. The emphasis is always on learning and creating safe, sustained practice. Understanding the "why" and "how" of practice adds depth, promoting a healthy approach to life-long practice.
He is fascinated by the intricacies of the human state — innumerable layers of expression contained within a single, physical manifestation.
*Michael's classes are taught bilingually
---
Pascale Wettstein
Yoga became Pascale's best friends during the 15 hectic years in NYC as a dancer and choreographer. In 2001, she took her first YTT at Om Yoga Center where she taught for several years. Followed by prenatal/post-partum yoga with Mary Barnes, restorative with Judith Lasater and Smart Flow 500h with Annie Carpenter.
Since 2001, she has had the privilege to teach classes, workshops and teacher trainings in the US,  Europe and Asia where she spend the last 6 years.
Her fascination for the different aspects of the human being brought her to study anatomy with Leslie Karminoff and Bonnie Bainbridge Cohen (Body-Mind Centering) and meditation at the Shambala Center and at Thich Nhat Hanh's beautiful Plum Village.
In her classes, she hopes to share the beauty of Yoga by marrying creativity, exploration and attention to an alignment that invites a safe and sustainable practice.
Off the yoga mat, you'll find Pascale writing books (Le Bien-être par le Yoga/ ed. France Loisirs, 2007, 10 minutes par jour pour se sentir bien /ed. Eyrolles, 2015 et 10 minutes pas jour pour enchanter son quotidien /ed. France Loisirs, 2018), exploring the world with her family or finishing her studies of Naturopathy.
She is delighted to now call Montréal her home.
---
Paola Atallah
Paola discovered yoga in her early professional years. As a young business school graduate, she worked for large companies and very quickly became aware of the tension and holding patterns in her body that developed as a result of that particular line of work. So it was first and foremost a search for physical well-being that led her to yoga, but very quickly her commitment to her practice became an established way of life. She draws from her yoga practice on a daily basis, using both the physical and mental benefits to help overcome professional and personal obstacles. In an accelerating world she believes that her consistent practice brings her better perspective and clarity of mind. She has been transmitting her passion since 2017 through the Iyengar method known for its precision.
---
Brigitte Vaillancourt
Brigitte has been practicing yoga for over 20 years. In 2015, she decided to deepen her knowledge by enrolling in a 500-hour yoga teacher training at Naada Yoga. The diverse curriculum allowed her to explore restorative yoga and meditation, practices that she has a particular fondness for. In her approach to practice and to teaching, she cultivates mindful slowness: a precious tool with which to perceive the subtle and shifting sensations of the body.
---