Donna Farhi
Donna Farhi is a Yoga teacher who has been practicing for 39 years and teaching since 1982. She is one of the most sought after guest teachers in the world, leading intensives and teacher training programs internationally. Her approach to Yoga is informed by the refinement of natural and universal movement principles that underlie safe and sustainable Yoga practice. This concentration on fundamental principles allows student of all levels of experience and from all traditions to build their own authentic Yoga practice.
Considered the "teacher of teachers" students return to Donna's intensives year after year to be a part of the inspiring evolution of Donna's own practice and teaching.
Donna is the author of four contemporary classics; The Breathing Book, Yoga Mind, Body & Spirit: A Return to Wholeness and Bringing Yoga to Life: The Everyday Practice of Enlightened Living. Her fourth book Teaching Yoga: Exploring the Teacher-Student Relationship is a curricular text for teaching trainings worldwide. She has been profiled in four separate publications on exceptional contemporary teachers of our time, including Yogini: The Power of Women in Yoga.
After nearly four decades of practice Donna believes that Yoga is about learning to befriend our self and to be in friendship with others as a means to building greater fellowship with all of humanity. American born, Donna now resides in Christchurch, New Zealand on a 30- acre farm with her horses, Santosha, Liberty and Ambrosia.
---
Joanna Abbatt
Joanna Abbatt obtained a master's degree in biomechanics from McGill University in 1999, a bachelor's degree in dance from York University in 1981, is a registered massage therapist (massage physiotherapist, member of FQM), certified in pilates in New York City in 1989, certified in gyrotonic in 1999 in Los Angeles, and danced professionally for 14 years in Montreal. She has taught functional anatomy at Concordia University, Ashtanga Yoga Montreal, the École supérieure du ballet du Québec (ESBQ), and in the context of private workshops. Her practice combines the techniques mentioned above with manual therapy, which sets her apart from other teachers. She was one of the first to introduce Montrealers to pilates in 1990, before any pilates studio existed.She has run her own re-education studio in Montreal since 1990, where she works with dancers, circus artists, yogis and ordinary people. She has always been motivated by the desire to get people moving and to help them solve their locomotor problems.
---
Dr. Baxter Bell
Since Baxter Bell decided to give up his stressful career as an overwhelmed family doctor for that of yoga teacher and medical acupuncturist, he has actively broadened his knowledge of yoga and relaxation. A graduate of 18 months' advanced training at Piedmont Yoga Studio, he is now director of Deep Yoga training at Piedmont and teaches courses in experiential anatomy, yoga technique and yoga methodology. He is also a faculty member of several teacher education programs in the United States, including the Therapeutic Yoga Teacher Training at the Niroga Institute in Berkeley, California.
Baxter studied extensively with Rodney Yee, Patricia Walden and Erich Schiffmann. He is very inspired by the work of TKV Desikachar and Donald Moyer. Presented by a Yoga Journal DVD, Yoga for Stress, Baxter has written numerous articles for Yoga Journal, Yoga for Everybody and International Journal of Yoga Therapy. He also blogs in the Yoga for Healthy Aging and Doctor's Orders sections of the Yoga Journal. Very involved in the integration of clinical applications of yoga in Western medicine, Baxter regularly lectures to health professionals throughout North America and uses hatha yoga asanas and pranayama practice when he treats his patients as part of his acupuncturist profession.
Baxter gives back yoga classes for the general public, in companies and for specific clientseles in Oakland, Berkeley, Petaluma and Novato in California. He also offers yoga workshops and retreats across the United States and other countries. He teaches a comforting, stimulating healing hatha yoga style that balances the desire for action with the need to calm the mind, while highlighting the curiosity and meditation that are fostered by the practice. . His students say they really appreciate his clear instructions and his sense of humor.
---
Ann Dyer
For over thirty years, Ann Dyer has explored sound and music as an artist on stage and in the studio, yoga practitioner, student in Hindustani vocalization and teacher of sound in the context of the yoga tradition.
Ann Dyer has given numerous concerts in the United States, India, Brazil, Mexico and Canada. She has produced three critically acclaimed albums: Ann Dyer & No Good Time Fairies, When I Close My Eyes and Revolver: A New Spin. This one was classified by the Village Voice in the 10 best albums of the year. Ann Dyer's music is acclaimed for its originality and its subtle treatment of sound that "takes you to the guts while playing tricks on your mind" (The Metro). Ann also composed and performed the soundtracks for two Rodney Yee DVDs released by the Gaiam label: AM Yoga and Five-Day Ashtanga.
Ann's teaching in yoga of sound promotes understanding of philosophy, skill in practice and experiential knowledge. The effects of sound on the physical body, physiology, emotions, intelligence and consciousness of the mind are highlighted. Themes covered include, Sanskrit, Vedic mantra, tantric mantra, ghakti yoga, naada yoga, the mystical foundations of Indian classical music and the incorporation of sound in one's personal practice and in yoga classes. .
Ann is the director of Mountain Yoga in Oakland, California and a member of the Deep Yoga program faculty at Piedmont Yoga Studio. The music project she is currently working on, VAK: Song of Becoming, is a long, multidisciplinary concert based on the principles of sound and the foundations of yoga. It was commissioned by the Yerba Buena Center for the Arts in San Francisco.
---
Elizabeth Emberly
Elizabeth Emberly, co-founder of Montreal studio Naada Yoga, holds an Ashtanga teacher certification. His approach is oriented towards the creative expression of yoga. She has done extensive studies with Dharma Mittra, Darby, Allison Ulan and Richard Freeman. A graduate of the Concordia University dance and choreography program, she uses her 25 years of dance and somatic experience to enrich her yoga teaching.
---
Kreg Weiss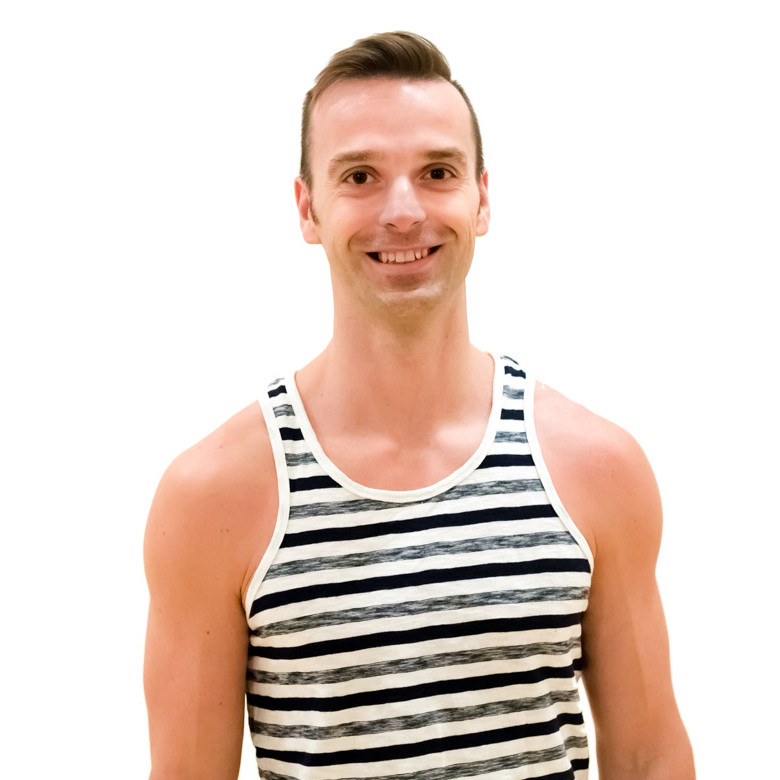 Kreg is a certified Hatha Yoga Teacher, international presenter and kinesiologist (exercise science). All of his classes integrate a purposeful, meditative quality to allow for an experience of connection and reflection while the body explores expansion and renewal. Kreg acquired his Yoga certification in 2002 following several successful years of venturing in the wellness industry as a personal trainer, group fitness trainer, and national competitive athlete. He has been able to complement his teaching practice with additional studies in Kinesiology and Health Sciences at the University of British Columbia.
With his extensive background in anatomy and physiology, Kreg feels privileged to be able to empower students with practices that are educational, engaging and accessible. Through integrity-driven classes, Kreg aims to provide students with the tools to pursue a unique, confident practice where asanas, pranayama, and meditation interact collectively to rejuvenate and heal the body and mind.
---
Mary Paffard
Mary Paffard was dragged kicking and chain-smoking to her first yoga class in the early 70s in London. It was by no means love at first sight! but it was the first time she could remember feeling the possibility that head, heart and body may all be part of the same continuum. Since then, she shares her passion for, and explorations of, yoga and Vipassna meditation, in classes, workshops and teachers programs nationally and internationally.
Mary has lived off-the-grid on a collective apple farm for over 30 years in Northern California. Director of Teacher Training at Yoga Mendocino, Ukiah California from 2000-2010, Mary co-founded this non profit center and has created teachers programs for training and "un-training"! since the mid 90s. She continues to be part of the Teachers programs faculty at Piedmont Yoga, Oakland and has brought trainings to Mexico, Cuba and Europe through her Yoga Alliance certified school, Yoga for All, at the 200 and 500 hour level.
---
Sonia Osorio
Sonia holds a higher diploma in homeopathic medicine (DHom), is a massage therapist and certified yoga teacher with more than 20 years of experience in somatic approach. His training is based on an approach to the treatment of various manifestations of stress, illness and trauma that integrates body, mind, lifestyle.
Sonia has undergone advanced training as an Ashtanga and Iyengar teacher with Sri K. Pattabhi Jois, Richard Freeman, Ramanand Patel and Mukesh Desai. She also studied conscious practices with Zen Buddhist master Thich Naht Hanh and deepened her meditative studies in Tibetan Buddhism under the direction of Ken McLeod.
For several years, Sonia worked as an editor and reviewer for medical publications. She still writes articles for various publications in the healthcare field. As part of her exploration of the relationship between body and mind, Sonia has facilitated the development of teaching curricula and participates in mentoring students with regard to practice and teaching.
---
Matthew Remski
Matthew a obtenu sa certification en yoga et ayurveda sous la direction de Darren John Main en 2002, et en thérapie du yoga en 2004 du Rocky Mountain Institute of Yoga and Ayurveda, sous la direction de Sarasvati Buhrman. En plus de ses études en ayurdveda et philosophie du yoga avec le professeur Buhrman, il a étudié l'alignement structurel et la thérapie Marma Point avec Shar Lee, la thérapie de yoga pour l'asthme et le diabète avec Dre Sarita Shresta du Nepal, la thérapie de yoga pour patients cancéreux avec Jnani Chapman de Commonweal, le yoga pour les défis du vieillissement avec Nischala Devi du programme du Dr Ornish, ainsi que la psychologie appliquée du yoga avec Maitreyi'i Nolan PhD.
Matthew est diplômé du American Institute of Vedic Studies (David Frawley, directeur) en éducation de la santé ayurvédique, et en thérapie de yoga avancée et médecine ayurvédique (800 heures au total). Il a aussi obtenu un diplôme du programme de la philosophie avancée du yoga au RYA avec Scott Petrie de 2008 à 2010. Il a étudié le Hasta samudrika et le Vastu Shastra avec Hart deFouw dans cette même période. De 2007 à 2011, il a étudié l'astrologie indienne (ou Jyotish) dans un environnement gurukalu au Vidya Institute à Toronto.
Il est membre adjoint de la faculté à de nombreux programmes de formation de professeurs de yoga à Toronto en tant qu'enseignant de la théorie et pratique ayurvédique. Il a été le co-directeur de Yoga Community Canada et le co-fondateur de Yoga Festival Toronto. Il a écrit Yoga 2.0: Shamanic Echoes avec Scott Petrie. Sa traduction révisionniste des Yoga Sutras de Patanjali, intitulé Threads of Yoga: a Remix of Patanjali's sutras with commentary and reverie, reçoit une attention internationale. D'après Mark Singleton, «Je connais nulle autre lectures des yoga sutras qui soit aussi sauvagement créative, enflammée et sincère que celle-ci. Elle interpelle Patanjali et le lecteur dans un dialogue urgent et vif qui incorpore la philosophie, la poésie symboliste, la psychanalyse et l'histoire culturelle. Ce livre offre une grande joie et fraîcheur qui se trouve rarement dans les écrits yogiques, et encore plus rarement dans les écrits au sujet des yoga sutras. Il s'agit de Patanjali pour les postmodernes, pas tant une traduction qu'une compte rendu d'une étonnante pertinence sur notre condition actuelle, au travers du prisme du texte ancien.»
Matthew travaille présentement sur un livre à propos de la théorie et pratique ayurvédique au 21e siècle au titre provisoire de «Ayurveda: East and West». Ses autres écrits peuvent être consultés sur son blogue.
---
Richard Rosen
Richard est directeur du Piedmont Yoga Studio (PYS) d'Oakland, en Californie. Il a commencé à pratiquer le Hatha Yoga en 1980 et a étudié au Iyengar Yoga Institute de San Francisco. En 1987, il ouvre le PYS avec son ami Rodney Yee, studio où il enseigne toujours aujourd'hui. Le 3 janvier 2009, Richard a enseigné sa 5000e classe publique au PYS.
Il est l'auteur de 3 livres de yoga :The Yoga of Breath, Yoga for 50+, et Pranayama Beyond the Fundamentals. La maison d'édition Shambhala vient aussi de lancer un coffret de 7 disques compacts audio, intitulé The Practice Of Pranayama, contenant 8 heures d'instructions pour le Pranayama. Shambhala a également publié Original Yoga: Rediscovering Traditional Practices of Hatha Yoga in 2011.
Richard écrit aussi des articles, des revues littéraires et des chroniques pour le Yoga Journal, où il est collaborateur à la rédaction. Depuis 1990, en tant que chroniqueur audiovidéo pour le Yoga Journal, il a évalué plus de 300 vidéos de yoga.
Richard Rosen est membre du conseil d'administration de la California Yoga Teachers Association et a contribué, en 2008, à la création de la Yoga Dana Foundation, qui aide les professeurs de yoga californiens travaillant auprès de groupes défavorisés, notamment les personnes à risque, les jeunes détenus et les élèves infirmes.
---
Mark Singleton

Mark Singleton travaille dans le domaine de l'histoire des idées dans le yoga transnational et enseigne présentement au St. John's College à Santa Fe au Nouveau Mexique. Il a été assistant de recherche pour Elizabeth De Michelis en 2003-4 et a complété son doctorat sur le yoga moderne à la faculté de théologie de l'Université de Cambridge. Sa plus récente publication, Yoga Body: The Origins of Modern Posture Practice (Oxford University Press, 2009) découle de sa thèse doctorale et trace le développement des modes modernes de la pratique posturale du yoga de c.1875 à c.1940. Ses publications comprennent treize entrées sur le «yoga moderne» pour le Routledge's Encyclopedia of Hinduism (2009); une édition spéciale du journal Asian Medicine portant sur le yoga en tant que rédacteur invité; Tradition and Modernity (2007); et il aurait co-dirigé la rédaction du livre Yoga in the Modern World: Contemporary Perspectives (Routledge, 2008). Il est présentement en préparation d'une collection dont il co-dirige la rédaction intitulée  Gurus of Modern Yoga.