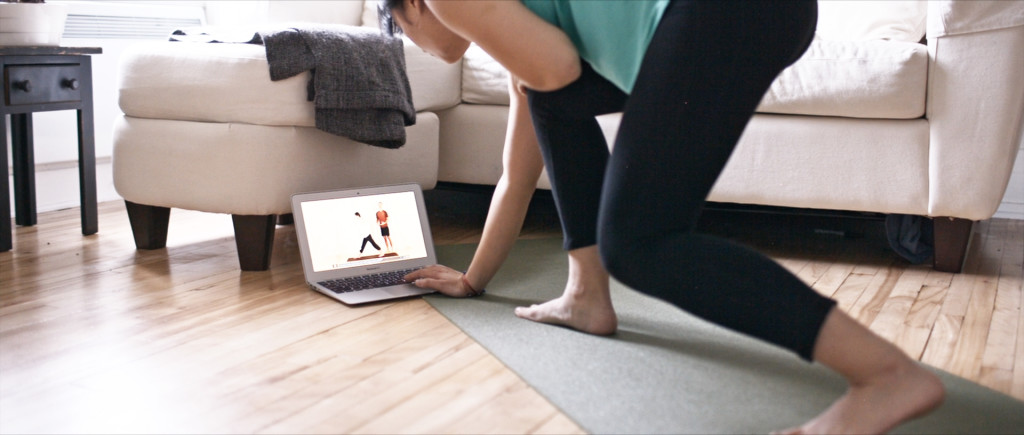 View LIVEStream Class Schedule
Our community is not defined by our studio walls
and now neither are our classes.
We have worked hard to establish a LIVEstream schedule with all of our studio teachers (and even some past Naada Yoga teachers) to offer you a complete schedule of nourishing classes as we did before the world was forced to isolate. Taking a LIVEstream class is like taking a class at the studio with your favourite teacher.  You can see your teacher and they can see you. Your teacher will make adjustments and you can connect with your fellow students. This is not a yoga video, this is LIVE.  With LIVEstreaming we can continue to call on our yoga practice and each other to help us weather this crisis together — and perhaps we can emerge from this difficult time with an even deeper connection to both our yoga and our community.
IT'S EASY!
Just a few simple steps.  Having trouble?  Email us
We are new to this, and appreciate your patience as we learn. There are bound to be glitches —  and we will be there to fix them as quickly as possible!
Login to your Naada Yoga online account via our schedule page or our app.

Make sure your email address is current.
Click on MY INFO and make sure all the boxes about receiving emails and notifications are checked.  This is crucial: Your link for access to LIVEstream classes will come thru email notifications. If you are having difficulties simply email us and we will set up notifications for you as soon as possible.  Please be patient with our response time as we are currently handling a high volume of inquiries.

Download the  Zoom app for desktop or mobile using the same email address, and give ZOOM a trial run before your first class.  For the best experience, you'll want to join us from a device with a video camera and microphone. This way, we can both see and hear you.
Sign in for class on our website.  Class pricing is the same as in-studio classes — LIVEstream is now our virtual studio!
You will receive a link upon registration for entry to class. Links are generated 60 minutes prior to each class. Didn't get the link?  Check your spam folder!  Still no link? Email us!
Click the link to be transported to your virtual class. Classes are open 10 min prior to class time.
You must register in advance (or if you need to cancel your reservation) a minimum of 5 minutes prior to the LIVEstream class beginning.
FAQ's
​Can I test my zoom set up before taking a class?
After you sign up for your zoom account, you can join a test meeting by clicking here to make sure your audio and video is working. We can't provide a lot of technical assistance during classes, so testing your set up before your first class is critical.
Will I be seen in my house as I am practicing?
That's up to you! You have the option of being seen — or not! Once you click to join the classroom, choose with our without video. If you choose "with", the teacher and other attendees will see you. These classes will not be recorded, so you don't have to worry about anyone seeing you other than your virtual classmates and your teacher.
Can I change the view so I am only seeing the teacher? 
"Speaker" view allows you to follow the teacher, while "Gallery" view will show other students in the class. Since a lot of us know each other, it can be nice to connect in the Gallery view!
Can I ask questions during the practice or chat with my buddies?
During class your microphone will and should remain muted. This reduces audio feedback for all attendees. Some teachers may pause to ask if anyone has questions, at which time you can unmute your mic and talk directly to your teacher.
What should I do if my internet connection isn't working well?
If your internet connection slows down during class, try turning off your video camera so you can still see the class, but the teacher and other people in class can't see you. This helps decrease the load on your wifi connection.
What is the best browser to use for virtual classes?
Zoom works best when using the Chrome web browser if you are using your laptop.
What happens if my class feed suddenly stops?
It's rare that this happens, but if it does, stay in the virtual classroom and the feed should resume once the problem is navigated by our host.
Can you help me with technical issues?
We will help as much as we can, but we are not technicians. Be sure to play with your free Zoom account before your first class to get used to the format. We won't be able to stop class to help you if you are having trouble. If you have had a difficult experience with your virtual class, please email us to let us know.
How do I pay for my online classes?
Use your memberships or class card packages for LIVEstream classes— exactly like in-studio classes.  New to Naada Yoga?  Then sign up for our New Student Special — $160 for Three Month's Unlimited Classes. Go here.
How can I help Naada Yoga survive this challenging period?
If at all possible, please consider sustaining your autorenew membership during this shelter-in-place period  by keeping your yoga health and sanity together with LIVEstream classes.  We fully appreciate that everyone is experiencing difficulty during these unprecedented times and do not take your choice to support Naada Yoga lightly.  As you are here for us we are here for you. Let us take this opportunity to reconfirm our connectivity and breathe collectively.
What should I do if I don't have props?
Naada Yoga teacher Baxter Bell has kindly shared the video below to help you find props from around the house for your home practice.
A gesture of thanks to our members
As a token of our appreciation to our members for supporting Naada Yoga during this time of uncertainty we would like to offer any of our  active members 20% off any of our props for sale.  Naada Yoga was thoughtfully and purposefully built to support and nurture a complete yoga practice for a diverse community. Every design choice has your health in mind. While we cannot share our facility with you during these unprecedented times we can help provide you with yoga props to support you while you practice at home with us.  Once you have activated your membership please let us know if you need props at home by emailing the studio at info@naada.ca.  We will arrange a pick up time with you at the studio (or delivered in the mile end if you are quarantined), and yes, each and every prop has been thoroughly disinfected.  If your mat is currently stored at Naada Yoga and you would like to pick it up to practice with us at home please email us at info@naada.ca.